Cavalierklubbens udstilling i Nyborg 21-01-2017
Dommer Wendy Lhote, kennel Woodville (FR)
Bedste åben-han og 2. bedste han og CERTIFIKAT
På Cavalierklubbens udstilling i Nyborg, stillede Holger for første gang i åben klasse. Hvilken succes, han blev bedste han i åben klasse og senere 2. bedste han og fik certifikat. Han manglede kun dette ene efter sine fyldte 2 år og dermed blev han Dansk Champion (DKCH).
Det er en helt vidunderlig følelse at have opdrættet sin første DKCH.
Dommer Wendy Lhote (JKennel Woodville)  fra Frankrig skrev om Holger:
"Pretty headed blenheim with a masculine expression, the eyes could be darker, good mouth, excellent neck and shoulders, good bone, nice feet, good top line, tail set a little low, would prefer more compact body, shown in beautiful coat and condition, rich markings and pearly white background, perfect for size, free easy mover, great ring temperament, excellent presentation"
Cavalierklubbens udstilling i Hårlev 27-11-2016
Dommer Joakim Ohlsson, Kennel Hackensack (SE)
Bedste mellemklassehan og 2. bedste han – og CERTIFIKAT
23 mdr, utmärkt helhet, vackert maskulint hoved, velbårne örer och fint behæng, store mørke runde ogon, utmärkt nosparti, utmärkt hals forbryst och brystkorg, utmärkte vinkler, rör sig mycket vel, med super topline velbåren svans, veltecknet blenheim med utmärkt chestnut farg.
Dansk Kennel Klub udstilling i Vejen 10-06-2016
Dommer Jan Sonne-Schmidt (DK)
Bedste mellemklassehan og 3. bedste han – og CERTIFIKAT
Udmærket størrelse velformet korrekt hoved udmærket skalle velansatte ører med udmærket længde og behåring korrekt stop mørke øjne korrekt næseparti udmærket pigment god underkæbe og bid stærk hals stabil ryglinie velansat og velbåret hale veltillagte skuldre og godt bryst gode benstammer og poter god pelskvalitet og farve stabile bevægelser med gode skridt godt temperament.
Dansk Kennel Klub, kreds 2, Køge 16-05-2016
Dommer Zafra Sirik (RSA)
Bedste juniorhan og 2. bedste han – og CERTIFIKAT
Very impressive young dog with beatifull head sound movement and well shown
Cavalierklubbens udstilling i Glamsbjerg 02-04-2016
Robert C. Lamont, kennel Moorfields (IRL)
Bedste juniorhan og 3. bedste han – og CERTIFIKAT
15 months old blenheim, of very nice type shape and size, lovely in outline, desired soft expression, nice head and eyes, good pigmentation, nice topline, good reach of neck, well laid back shoulders, good front, well angulated hind quarters, short hocks, shown in very nice  coat and condition, very stylish on the move, moved positively and soundly
Cavalierklubbens udstilling i Års 11-10-2015
Dommer Ineke Zwaartman-Pinster (NL)
Bedste juniorhan og 4. bedste han
10 month excellent overall, excellent head and expression, correct earset, expression and bite, excellent angulated in front and rear, that is why he has excellent topline, good tailcarrige, needs a bit more in ribs, good chest and bone, excellent movement and coat Juniorcert
Cavalierklubbens udstilling i Lynge 20-09-2015
Dommer Viera Stloukalová, Slovakiet
2 i juniorklasse, exc. m/CK
BH boy with lovely head and expression, exellent pigmentation, good topline, good movement, nice coat, lovely caracter.
DKK International udstilling i Hillerød 19-09-2015
Dommer Bill Browne-Cole (GB)
2 i juniorklasse, exc med CK.
gorgeous head and eye, correct bite, well placed ears, excellent making shape, couldnt stand wrong, should make up.
DKK international udstilling på Bornholm 16-08-2015
Dommer Anne-Mari Haugsten, Norge
BIR hvalp / BOB Puppy
8 måneder. Maskulin han. Meget god kvalitet. Herligt hoved og udtryk. God hals og overlinje. Velansat hale. Velvinklet. Velkroppet for alderen. Bra pels. Bevæger sig bra
DKK International udstilling på Bornholm 15-08-2015
Dommer Inger Brodal Ronander (NO)
1 i hvalpeklasse (BIM hvalp/BOS Puppy)
8 mdr. gammel – velplaceret skulder – udmærket hals og rejsing – velansatte ører – korret snudelængde – udmærket benstamme – kunne være noget koretere i lændpartiet – udmærket pels – racetypisk temperament
Sommerskue i Fensmark, DKK kreds 10 02-06-2015
Dommer Svein Bjørnes (DK)
BIR-hvalp (BOB-Puppy)
7 mdr, herlig type, smukt hoved og udtryk, blenheim, godt stop, herlig næseparti god pigment, korrekt bid, velansatte ører, og smuk hals, velplaceret skulder, fin front og bagpart, meget fint ribbensparti, fin dybde, fin overlinie, velansat hale, smuk pels, bevæger sig racetypisk, herligt temperament.
Cavalierfestival 26-07-2015
Dommer: Norma Inglis
BIR-hvalp og BIS hvalp (BOB-puppy and BIS puppy)
well schooled blenheim showing with lots of self asswance willingly let me see his good points at the table and on the ground, nice balanced outline, good rich colore head and eyes exellent, sweet yet maskuline, looked good on the move an impressive puppie who will do some usefull winning I think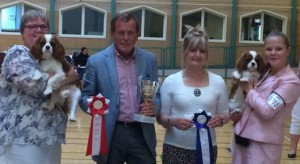 Cavalierfestival 25-07-2015
Dommer: Gordon Inglis
BIM-hvalp (BOS puppy)
most attractive head shape, with correct scull to muzzle proportions, clean lips, and correct teeth, large round dark eyes, and a pleasing overall expression, firm well developed body, richly coloured coat, with enough lenghts and in exc condition, enough neck, firm topline, good rear angulation, moves truly and accurately with coming and going, very steady holding his topline well in profile,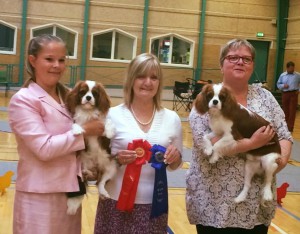 DKK, Vejen 21-06-2015
Dommer: Juha Palosaari, Finland
BIM-hvalp (BOS-puppy)
very nice oultline and proportions, nice head, but the muzzle could become a bit stronger, fluent topline, exl body and forechest, good angulations in front and rear, lovely coat quality, moves correctly from all sides, makes a beautyfull Picture,
DKK, Vejen 20-06-2015
Dommer: Per Knudsen
Særdeles Lovende, 3 placering i hvalp
6 mdr. korrekt bid udmærket øreansætning kunne have en anelse mere læbe korrekt pels ganske velvinklet god overlinie lidt tynd benstamme bevæger sig godt
Cavalierklubben, Årslev 17-05-2015
Dommer: Gunilla Kühni-Stenberg, kennel Stonehill
BIR-Baby (ud af ialt 20 babyer)
5 months old. blendheim, lovely size and type, sweet head and expression, corr. ears. good topline, nice neck. corr tailset, moves very well, nice colour and coat. happy temperament
DKK kreds 1, Bakkeskue 14.05.2015
Dommer: Henny Andersen, Danmark
BIM-Baby, 2. bedste han
Dansk Kennel Klub, Roskilde 26.04.2015
Dommer: Sóley R. Ragnarsdóttir, Island
2. bedste babyhan (SL)
4 ½ months, masculine dog, nicely proportioned, skull a little rounded, correct sciccor bite, good lenght of muzzle, would like more cushoning, beautiful dark eyes, gives a soft expression, moderate front angulations, needs more lay back of shoudkler, well filled front, moderate sping of ribs, solid topline, little long in loin, croup sligthly sloping, well set and carried tail, more anulated in rear than in front, moves freely eventhough topline still is a little soft, shows very well
Dansk Kennel Klub, Roskilde 25.04.2015
Dommer: Juha Kares, Finland
BIM-Baby
very nice puppy. with lots of potentials. Exc proportions, attrative head and expressions, good front, very pormising colour and coat, well angulated behind, very happy nice mover. exce presentation
Dansk Kennel Klub Kreds 10 – 05.04.2015
Dommer: Heidi Rolfes, Sydafrika
BIR-Baby
4 months old puppy, with good expressions. lovely front of rear, very good fore chest, level topline. good tail set. excellent angulations. Perfect moving in front and rear.
Cavalierklubbens udstilling 1 og 2 Hårlev den 21/3-15 BIS-Baby
Holger m/Nadja, dommer Sue Terry og Choice m/Rie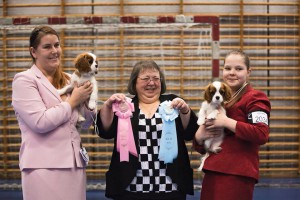 Cavalierklubbens udstilling 2 Hårlev den 21/3-15
Dommer: Marian Mynott, England
BIR-Baby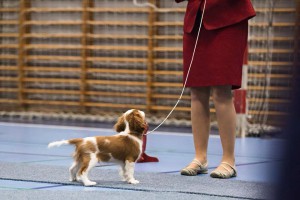 Very sweet puppy. very well constructed. lovely head. and sweet expresion propiate for the age. moved vevry well. with a lovely top line
Cavalierklubbens udstilling 1 Hårlev den 21/3-15
Dommer: Sue Terry
BIR-Baby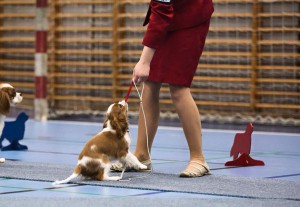 Goodsize and shape, well balanced, nice head with good dark eye and well placed ars, correct muzzle, good frontangulation, lewel topline and correct turn of stifle, moved soundly coming and going. super temp.